Home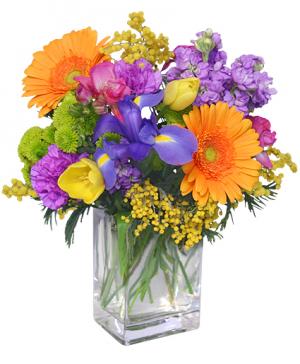 CELEBRATE THE DAY
Fresh Flowers
Celebrate the day with this delightful bouquet! This arrangement is a vibrant mix of orange gerberas, yellow tulips, purple carnation, and fuchsia freesia that turns heads and brightens smiles. No matter what day you are commemorating, Celebrate The Day will be the perfect gift to mark the special occasion.
More Info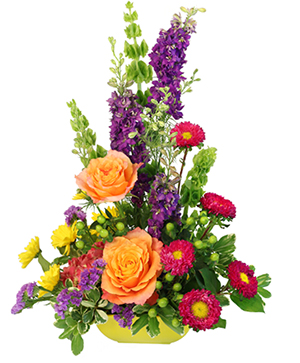 Tower of Flower
Floral Arrangement
A cascade of bright blooms is just the thing to cheer someone up and bring joy to their day. Our Tower of Flower is a mix of vibrant orange roses, hot pink hydrangea, purple larkspur, bells of Ireland, and more to create a beautiful rainbow of joy!
More Info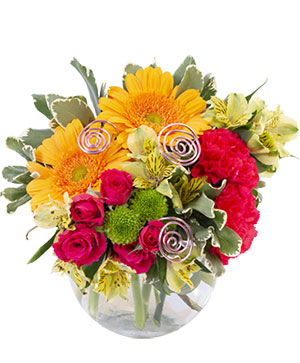 Fiery Pink
Floral Design
This bouquet is full of heat! Featuring a hot mix of yellow gerberas, hot pink carnations, spray roses, and more, Fiery Pink will light up a room and bring warmth to those who receive it. Send someone you love this exquisite bouquet today!
More Info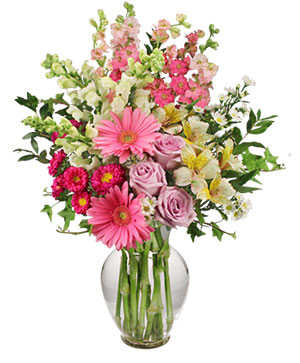 As a disclaimer we try to match all website floral designs as close as possible,however depending upon our floral supply and seasonal products in our inventory, certain flowers/vases may not be available and there could be substitutions. We will do our absolute best when subsituting to make your chosen design is still absolutley beautiful.
---
When placing food orders we require a 24 hour tunaround on all fruit and snack baskets.

4 Most Important Care Tips for Fresh Flowers
Replenish the water frequently. ...
Trim at least a half inch of stem off your flowers before you put them in a vase and each time you change the water.
Keep your flowers away from heat and bright light.
Avoid sitting your flowers beside ripening fruit or vegetables, especially bananas and apples.